Preparing For the Big One
9/13/2016 (Permalink)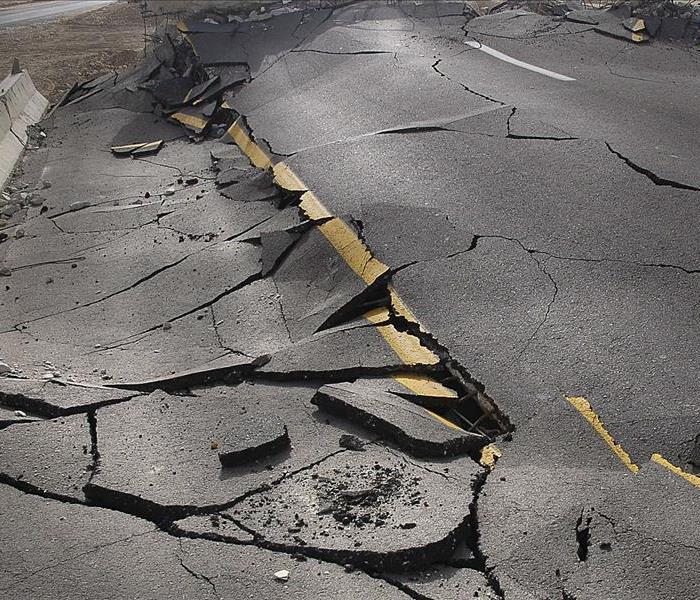 They say we are long overdue for "The Big One." Chatsworth, and Los Angeles in general needs to be prepared for a large scale earthquake. In case of an emergency, you should have basic items, such as food and water, kitchen items, first aid supplies, sanitation and hygiene items, tools, clothing and bedding, and household documents and contact numbers. They should be compact and accessible. It is often best to put together your own emergency supply kit rather than buying one at a store so you can personalize it. In addition to items below, kits should include comfort items such as coffee or candy, a deck of cards or board games. If you have children, include toys.
SERVPRO OF CHATSWORTH - STEVENSON RANCH RECOMMENDS PUTTING THESE ITEMS IN YOUR KIT:
* Health items
* Prescription medications and eyeglasses
* Infant formula and diapers (if applicable)
* Breathing Masks (NIOSH-N95)
* Personal First Aid Kit
Household documents:
* Important family documents such as copies of insurance policies, bank account records, I.D. cards
* Photos of family members and pets (in case you are separated)
* Cash and traveler's checks
* Tools
* Battery-powered flashlight (batteries included)
* Cell phone charger (batteries included)
* Work Gloves
* Light Sticks (3 each; one lasts 12 hours)
* Roll of duct tape
* Wrench or pliers to turn off utilities
FOOD/KITCHEN ITEMS
* Nutrition/protein bars
* Canned foods and juices
* Eating Utensils
* Can opener for food (if kit contains canned food)
* Water (at least 1 gallon per person, per day)
* Pet food and extra water for your pet (if applicable)
* Moist towelettes
MISCELLANEOUS
* Plastic Sheeting (10'x10')
* Rain Ponchos
* Backpack
* Whistle
* Battery-operated radio or TV
* Local maps
HOME ITEMS
* Sleeping bag or warm blanket for each person
* Complete change of clothing, including a long-sleeved shirt, long pants and sturdy shoes.
* Personal Hygiene Kit (includes shampoo/body wash, wash cloth, toothbrush and toothpaste, comb, deodorant)
* Books, games and/or puzzles for children
HOW TO GET WATER IN AN EMERGENCY
If you lack clean water, you can use the water in your hot-water tank, pipes and ice trays. If necessary, you can even use water in the reservoir tank of your toilet (not the bowl).
If you hear reports of broken water or sewage lines, you'll need to shut of your incoming water valve to stop contaminated water from entering your home. To use water already in your pipes, let air into the plumbing by turning on the faucet at the highest level of your house. A small amount of water will trickle out. Then obtain water from the lowest faucet in the house.
To use the water in your hot water tank, be sure the electricity or gas is off. Then open the drain at the bottom of the tank. Start the water flowing by turning on the water intake valve and turning on a hot water faucet. Do not turn on the gas or electricity when the tank is empty.
You should treat all water of uncertain purity before using it for drinking, food preparation or hygiene. There are many ways to treat water, though since none is perfect, the best solution is a combination of methods. Each of these methods will kill most microbes but will not remove other contaminants such as heavy metals, salts and most other chemicals. Before treating, let any suspended particles settle to the bottom, or strain them through layers of paper towel or clean cloth.
Boiling: Boiling is the safest method. Bring water to a rolling boil for 3-5 minutes. Let the water cool before drinking. Boiled water will taste better if you put oxygen back into it by pouring the water back and forth between two clean containers.
Disinfection: You can use household liquid bleach to kill microorganisms. Use only regular household liquid bleach that contains 5.25 percent sodium hypochlorite. Do not use scented bleaches, color-safe bleaches or bleaches with added cleaners. Add 16 drops of bleach per gallon of water. Stir and let stand for 30 minutes. Do not use anything except household liquid bleach. Other chemicals, such as iodine or water treatment products sold in camping or surplus stores should not be used as they generally do not contain 5.3 percent sodium hypochlorite as the only active ingredient.
Distillation: While boiling and disinfection will kill most microbes, distillation will go one step further, removing heavy metals, salts and most other chemicals. Distillation involves boiling water and then collecting the vapor that condenses back to water. To distill, fill a pot halfway with water. Tie a cup to the handle on the pot's lid so that the cup will hang right side up when the lid is upside down (make sure the cup is not dangling into the water) and boil the water for 20 minutes. The water that drips from the lid into the cup is distilled.
ADVANCED DISASTER TRAINING
The Los Angeles County Fire Department offers Community Emergency Response Team (CERT) training to those interested in being first responders. CERT training is free and consists of seven classes covering topics such as fire suppression and emergency medical care. Each class is 2½ hours long. Courses are available at multiple locations.
To learn more about upcoming CERT training, visit www.cert-la.com and click on "Current CERT Trainings" or call 818-756-9674.
DISASTER COMMUNICATION
It is best to have both a land line and cell phone available in an emergency, according to Ready L.A., the city's emergency preparedness department.
Here is what the city recommends:
* Keep a list of emergency numbers in your cell phone and/or near your home phone.
* Make sure you have batteries and car chargers available for your mobile phone
* If you have a landline, make sure you have at least one non-cordless phone in your home. It will work even if you lose power.
* Subscribe to text alert services from local or state governments like Alert.LA County.gov.
* Send texts instead of making calls during a disaster. Messages take up far less bandwidth.
* Use Facebook, Twitter and Skype. According to Ready L.A., sometimes the Internet continues to work when phone service is disrupted.
* If you are unsuccessful in completing a cell phone call, wait 10 seconds before redialing to help reduce network congestion. Keep conversation brief.
* Conserve your cell phone battery by reducing screen brightness, placing the phone in airplane mode, and closing apps.
* Historically, for land lines, if service shuts down, long-distance service usually recovers first. Thus, have a single out-of-state contact you can call with updates.
* KFI 640AM, KFWB 980AM and KNX 1070AM will broadcast emergency alerts. Emergency alerts also likely will be broadcast via television.
WHAT TO DO WITH YOUR PETS
* Have a two-week supply of pet food and water in case of an emergency. Rotate several times per year to keep it relatively fresh.
* Have extra prescriptions and medicines available.
* If you have a dog, keep a muzzle in your emergency kit. Some rescue agencies prefer them before they will assist in your
evacuation.
* Learn pet CPR, resuscitation and general first aid.
* Stay calm; most animals pick up on emotions and may react by displaying aggressive behavior.
* Check pet structures and favorite hiding places for hazardous debris.
* Microchip your pet and supply current ID tags at all times.
* Keep up-to-date vaccination records.
* After a disaster, immediately alert local shelters if your pet is missing.
* Obtain a "Pet Alert" sign for doors and windows from your local SPCALA Pet Adoption Center. You can also find similar signs on Amazon.com. This sign will alert emergency first responders to evacuate your pet.
HOW TO SHUT OFF YOUR UTILITIES IN CASE OF AN EMERGENCY
If a major disaster occurs, it may be necessary to turn off home utilities. By doing so, you can prevent gas leaks, flooding, fire or electrocution.
How to shut off your gas
* Do not shut off your gas unless you smell gas, hear gas escaping, see a broken gas line or suspect a gas leak. Once the gas is shut off, never attempt to turn it back on yourself; wait for the gas company to reconnect you.
The gas can be turned off at the main service shutoff valve. According to Ready L.A., the valve can be found on the gas line leading to your gas meter, which is normally in a side or backyard. The valve can be found 6 to 8 inches above the ground. Using a sturdy wrench turn to the valve until it is crosswise to the pipe.
HOW TO SHUT OFF YOUR ELECTRICITY
According to Ready L.A., you'll want to turn off your electricity in any of these circumstances:
* You smell burning insulation.
* There is a fire or major water leak.
* You suspect a gas leak.
* Arcing or burning occur in electrical items.
* Switches or plugs become blackened or hot.
* Power loss, accompanied by burning smell.
To do so, first locate your main electric box, which you can usually find in the garage or on the exterior on your home. If you have circuit breakers, open the door to the breaker box and make sure the electrical switch is off. If your house has fuses, find the pullout fuse that says "main." Remove all of the small fuses, and then remove the "main" fuse.
HOW TO SHUT OFF YOUR WATER
Water leaks can cause extensive damage, so it is sometimes best to shut off water after a disaster.
To do so, you should locate your shutoff valve, which is often in a garage or in the side or back of your house where water enters the building. You're usually looking for a wheel located on a riser pipe. Turn it clockwise to shut off the water. If you live an apartment and don't have access to the shutoff point, you might want to cut off the water supply to major appliances like dishwashers and refrigerators.
Source: City of Los Angeles, Ready L.A. program